The 19th Seminar of Track Management STRAHOS 2022
2022-10-17
The 19th Track Management STRAHOS 2022 Seminar, organized by the Faculty of Civil Engineering at the University of Žilina in cooperation with the Railways of the Slovak Republic (ŽSR - Železnice Slovenskej Republiky), was held in Poprad, Slovakia, on October 13-14, 2022.
The seminar presented up-to-date information on legislation and strategies for the implementation of construction activities in railroads, modernization of railroad infrastructure, structures and construction elements that improve the life cycle of tracks and railroad stations, an organization of construction, maintenance, and repair of railroad infrastructure, and railroad transport.
The seminar was expanded with a special section "Special Session and Workshop on Seminar of Track Management STRAHOS". This section is supported by a grant from the International Visegrad Fund within the framework of the Special Session and Workshop on Seminar of Track Management STRAHOS.
The goal of the seminar was to develop cooperation in the field of rail infrastructure and transportation research and publish the research results of the participating universities: Azerbaijan University of Architecture and Construction, Silesian University of Technology, Prague University of Technology, Dresden University of Technology, Brno University of Technology and the University of Zilina. The cooperation has increased the scope and diversity of research and educational activities of the universities. Also has contributed to increasing the knowledge of legislation, technical solutions in the planning and design of railroad infrastructure, and the development of its management in the V4 countries.
Representatives of the Faculty of Transport and Aviation Engineering have been participating in seminars in this series for years. This year's seminar was attended by employees and doctoral students of the faculty: prof. Aleksander Sładkowski, dr. Katarzyna Markowska, MSc Artur Budzyński, and MSc Tomasz Kawka.
Prof. Aleksander Sładkowski together with dr. Michal Šmalo from Ramboll Deutschland GmbH chairs the plenary session of the seminar
MSc Artur Budzyński at the plenary session presented the report "The Analysis of Factors Affecting the Occurrence of Incidents with Rail Vehicles in 2007-2021 in Poland" (authors A. Budzyński, A. Sładkowski)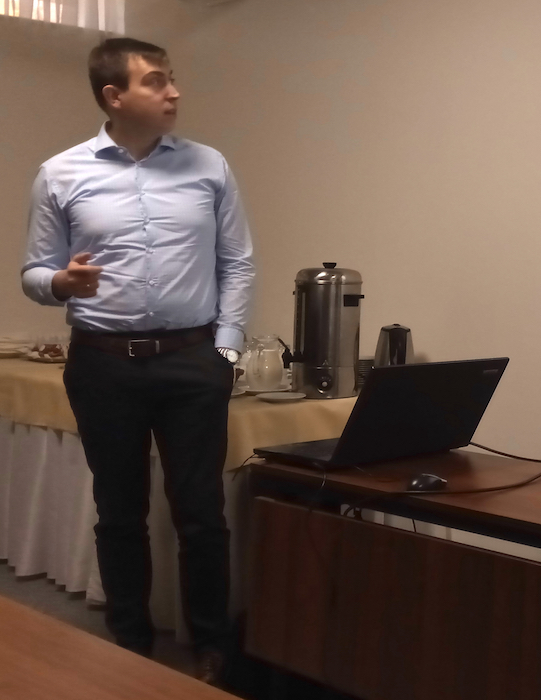 MSc Tomasz Kawka together with prof. Aleksander Sładkowski during the Workshop presented the report entitled "Consequences for Polish Transport in the Event of an Armed Conflict in Eastern Europe" (authors A. Sładkowski, K. Markowska, D. Ciesielski, T. Kawka)
Participants of the seminar "Track Management STRAHOS 2022", in addition to meetings with colleagues from Slovakia, Czech Republic, Germany, Azerbaijan, and Poland, had very fruitful discussions and learned about new trends in the railway industry, had the opportunity to listen to a national music concert, as well as observe beautiful views of the Slovak Tatra Mountains.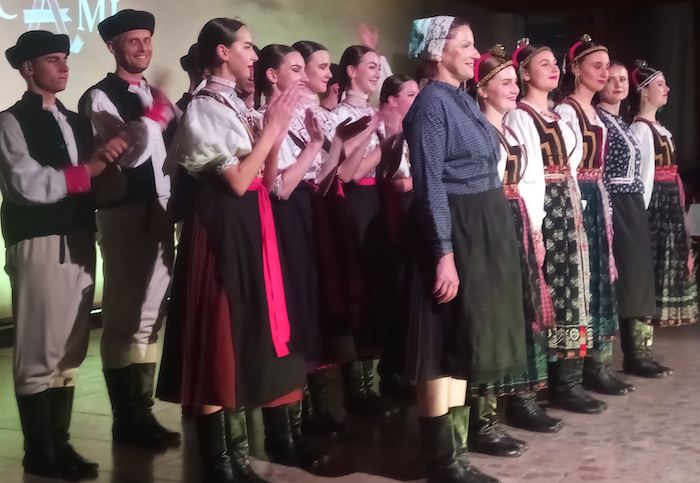 There is a national song and dance ensemble from Slovakia
On the way back in the Slovak Tatras, dr. habil. Katarzyna Markowska with PhD students Tomasz Kawka (left) and Artur Budzyński
Go back