Cooperation of transport scientists of the "Silk Road"
2022-10-03
Researchers and lecturers from three leading universities organized the next conference in Tbilisi (Georgia) called the Georgian-Polish International Scientific Conference "Transport Bridge Europe - Asia". It was organized by the Georgian Technical University (GTU, Tbilisi), the Akaki Tsereteli State University (Kutaisi), and the Polish side the Silesian University of Technology (SUT). This conference was held for the sixth time. The conference is cyclical and it is obvious that if it were not for the global pandemic situation, which is why the conference was not held for three years, then its next number would be larger. In addition to the organizers from Poland and Georgia, the conference was attended by representatives of Azerbaijan, Bulgaria, Lithuania, and Uzbekistan.
It should be noted that it is very difficult to organize a conference in the conditions of the war that is being waged in Ukraine, and whose echoes are spread all over the world. This is very much felt in Georgia, on the borders of which during the days of the conference there was an influx of Russians who fled from the war and mobilization to neighboring countries, which created additional problems in organizing the conference. Nevertheless, the organizers managed to solve all the problems, and the conference was a success.
The Polish delegation included representatives of technical universities: Silesian and Koszalin, as well as the Maritime Academy (Polytechnic) in Szczecin. During the conference, the reports of scientists devoted to the technical and technological problems of the transport industry were discussed. Interesting reports were presented on the use of new materials for vehicles, the organization of cargo delivery, traffic safety in railway and road transport, the impact of transport on the environment, and many other aspects. The reports presented at the conference were published in the post-conference edition (conference proceedings), which includes 41 articles.
In addition to a fruitful discussion of scientific problems, the participants of the conference were able to get acquainted with the rich culture and history of Georgia. They visited 2 museums in Gori, visited the ancient cave city of Uplistsikhe, saw the monasteries in Gelati and Motsameta (Imereti), Gremi (Kakheti), and also got acquainted with the harvesting, delivery, and processing of grapes in Kakheti.
Along with participation in the conference, the delegation of the Silesian University of Technology, headed by vice-rector prof. Bogusław Łazarz met with the leadership of the above two Georgian universities. Issues of international cooperation were discussed. In addition, the Polish delegation congratulated colleagues from the Georgian Technical University on the centenary, which was celebrated these days.
Discussion of international cooperation between universities, from left to right: vice-rector of the Akaki Tsereteli State University dr. Shalva Kirtadze; vice-rector of SUT, prof. Bogusław Łazarz; prof. Aleksander Sładkowski
Georgian, Polish and Lithuanian colleagues near the monument to the great Georgian poet Akaki Tsereteli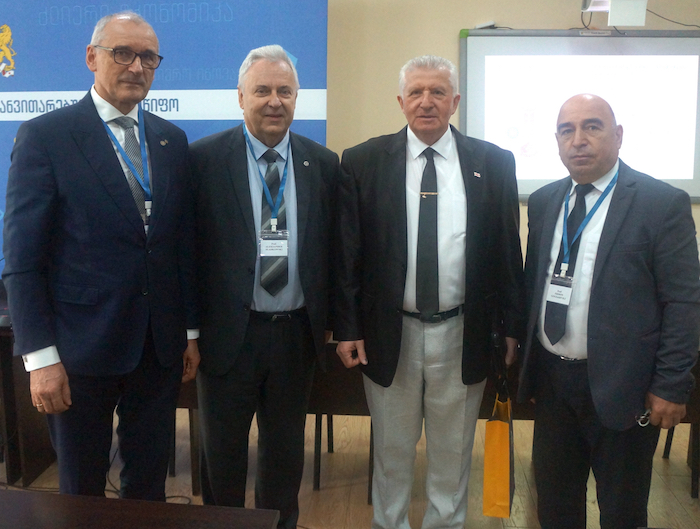 Meeting at the conference, from left to right: vice-rector of STU, prof. Bogusław Łazarz; prof. Aleksander Sładkowski; rector of the Akaki Tsereteli State University, prof. Roland Kopaliani; prof. Pridon Gogiashvili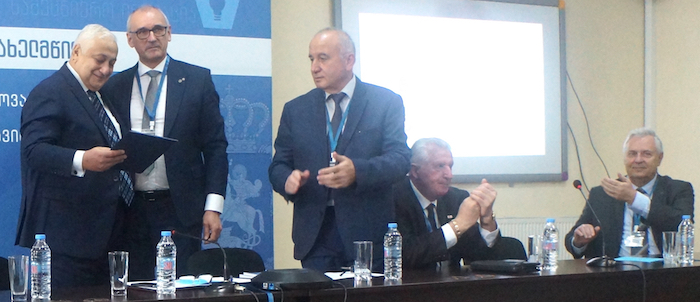 Presentation of official congratulations on behalf of the rector of SUT, prof. Arkadiusz Mężyk in honor of the 100th anniversary of GTU, from left to right: the rector of GTU, prof. David Gurgenidze; vice-rector of SUT, prof. Bogusław Łazarz; co-chairman of the conference scientific committee, dean of GTU, prof. Otar Gelashvili; rector of the Akaki Tsereteli State University, prof. Roland Kopaliani; prof. Aleksander Sładkowski
Speech by the co-chairman of the conference scientific committee prof. Aleksander Sładkowski
Visit of the conference participants to Gelati monastery (near Kutaisi)
Go back